After graduating from high school, Raj attended the University of Michigan in Ann Arbor where he was a hard-working student at the Ross School of Business. Raj was known by most everyone in Ross, for both his upstanding character, genuine friendliness, and respected intelligence. During the week, he could be found in the Winter Garden reading the WSJ, in the Tozzi Lab using the Bloomberg terminals to generate trade ideas, or at the Och Fitness Center getting in a workout between classes. Outside of the classroom, Raj enjoyed spending time with his friends, playing basketball, creating music playlists, frequenting Rick's, Blue Lep, and Skeeps (mostly Rick's), and attending Michigan Football and Basketball games. No matter what activity, everyone around Raj could feel the energy and positivity that he carried. While he is missed dearly by his friends, classmates, and professors from his time at Michigan, his legacy and positive impact will continue to live on through the Raj Reddy Scholars program.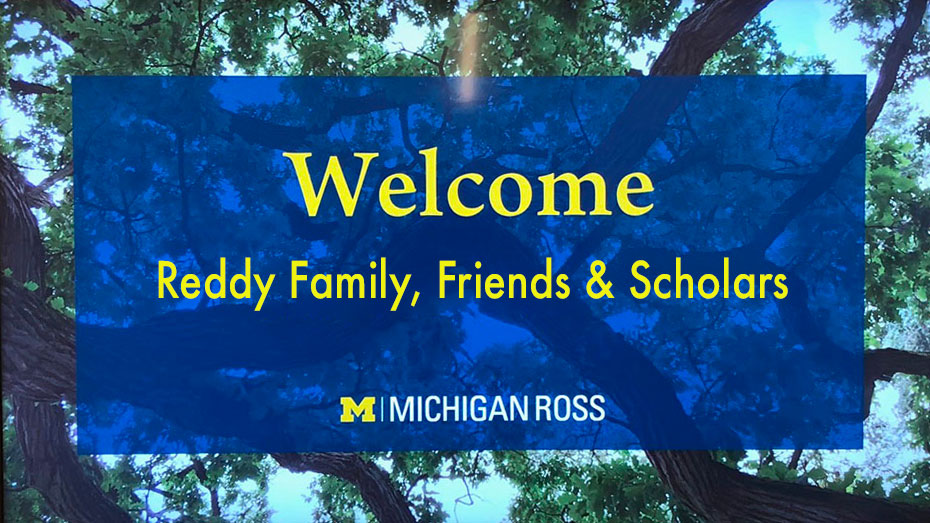 Raj Reddy Scholars & Alumni Annual Meeting
In New York July 23,2022
Raj Reddy Scholars Program Event
March 11, 2022
A reflective, inspiring weekend filled with love with the Reddy Foundation honoring
Raj's legacy and the Reddy Scholars. Thank you to all the friends, family and
alumni members for kindness and support!
Raj Reddy Scholars & Alumni Annual Meeting
in New York, July 31, 2021
Raj Reddy Scholars Program Events 2020
Program Event March 13th, 2020 • Social/Informational Event Feb 18th, 2020
Raj Reddy Scholars Program Event
March 15, 2019
Scholars Program Event
March 16, 2018
Raj Reddy Group Study Room
Dedication Ceremony March 24, 2017
Blau Hall (0576) • Ross School of Business • University of Michigan