By: Tim GradyRoss Business School
Senior year was a blast for room at Zaragon, from going out in Ann arbor to Skeeps and Ricks, to Cancun, and also, to Windsor Canada. Our friend Alex, who was one of Grant's old roommates, was one of our close friends who would join us when we all went to the gym. He's from Canada, and he would show us around and take us to the bars and clubs there. Raj, Grant, Alex, Ryan, and me all packed in to Grants car and went up to Windsor on a very cold day in late winter. We stayed at the Caesar's casino there, and all crammed into one room. We drove to dinner as soon as we made it to Canada, and went to a sports bar that Alex really liked. Normally, every Thursday we would go to Charley's in Ann Arbor for their burger deal and cheap pitcher of beer, so we figured we would do our usual burger and pitcher deal here. One problem, laws in Canada don't let you order more than 3 pitchers at a time, and we ultimately got the amount we wanted.
After dinner, we went back to our room and started pre gaming, and Alex's brother joined our crew to go out. We were blasting music in the room and having a good time with some of the people that showed up. We left and that's when the fun really began. We went to multiple bars, did multiple rounds of drinks, and eventually ended up at a place called "The Bank" - a nightclub that Alex and his brother Matt were fond of. By this point we were all plenty over served, but Alex and his brother kept the party going and ordered 5 bottles of Grey Goose and 3 bottles of Champagne. We had an exclusive table along with our bottles, and a personal bouncer who prevented anyone from touching our stuff.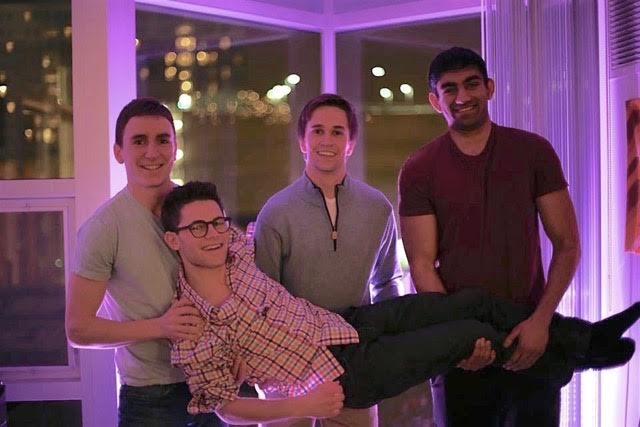 After a while, I noticed we weren't making too much of a dent in our new supplies, so I decided to walk around and hit on girls to see if they wanted to join our table and have some free top - shelf liquor and hang out with us (who wouldn't right?). Being very very very over served, I accidentally asked the same group of girls twice, one girl of which was with her boyfriend. Her boyfriend was furious with me, grabbed me by the collar of my shirt, and threatened to "punch my face in". Out of nowhere, Raj came to the rescue - he grabbed the guy by his collar and put him against the wall we were standing by. The guy looked absolutely scared out of his mind, but we knew Raj wouldn't do anything to hurt him.
Unfortunately, a bouncer saw this happen and immediately grabbed Raj, kicked him out of the club, and wouldn't listen to our pleas that he was helping us and protecting me. I told our personal bouncer and he darted out of the club trying to find Raj, but couldn't locate him in time. Not much later, we left back for Caesars to look for Raj. After searching for what seemed like hours and calling his phone, we found ourselves back in the lobby around 4am, confused as to where he went, and frustrated that he got kicked out for saving me. That's when he emerged from the casino escalators and we immediately ran over to him. He told us he was mad that he got kicked out, so he decided to play some Texas hold'em. The best part is, when we asked him how he played, he showed us the $100 he came in with, then showed us the extra $350 he made at the table. To this day we have no clue how he was able to do it.
That story will always be my favorite memory of Raj. without hesitation, he jumped in to save me when I was in trouble, knowing that could be put in harm's way as well. He stood up for me on multiple different occasions, and I'm so grateful to have had such a caring and dedicated friend like him.