By: Thomas W. HerrickJ.P.Morgan
I met Raj when we first showed up on our first day of our internship about 30 minutes before we really needed to be at the office. I think we immediately broke the awkward small talk when we started talking about college football and our frustration with respective schools. Raj was going to Michigan and I was a student at Texas, schools where our football teams were once great, but suffered tremendously during our college tenure. I think our passion for college football, Raj help build good friendship from day one. As our internship progressed challenged me throughout the summer, pushing me to work harder, longer and more efficiently. Raj was always the go-to when I didn't know how to do something (even as full-time analyst). Outside of work, Raj was super social and always down to go to a happy hour or a bar on a Friday or Saturday night.
During the last week of our internship, Raj took pictures for our final presentation and took one leaning back in Marty's chair, eating his candy. It was a hilarious picture, but Raj and I thought it would be best if he excluded it from our presentation. When we both found out a few weeks later we were offered and accepted our full-time offers, we were very exited to be joining the bank and working together as analysts.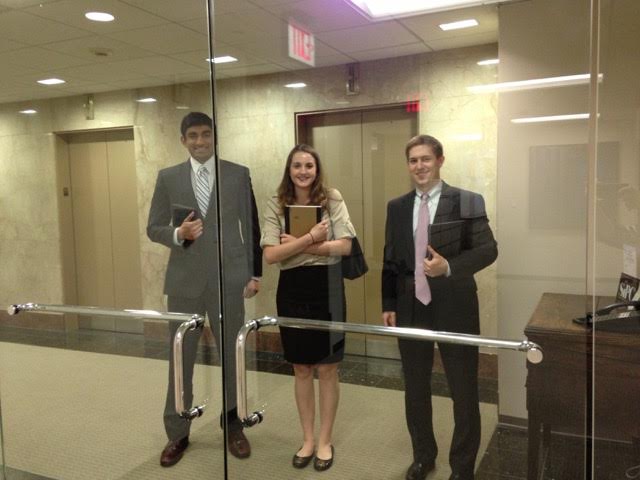 During our full-time training program in New York, I think Raj was the MOST POPULAR analyst in our class — which was not surprising because of how friendly, sharp and fun Raj's personality was.
As I mentioned before, Raj was always the "go to person" because he seemed to know the answers to everything. And if he did not know, he knew exactly who to put you in contact with to find the answer.
On the night before Raj was about to leave for Croatia, we had a team dinner at Marty's. James forgot to let us know a major book was due so we all knew we were in for a late night. Rather than stay , eat and hang out at Mart's, Raj and Hassan left early to get working on the books (a testament to his work ethic). We kept telling Raj to go home, pack and start his vacation, but he wanted to stay with us until we got the book done. Before heading out for the night, Alston took a picture of Raj, Hassan and I sitting with a sigh of Frustration. We all signed the picture and posted the picture throughout the floor. While we had to stay late working on the project, we all had a blast that evening, joking around and enjoying each other's company.
Never in my wildest dreams would I have expected the news to hear that Friday morning. While it was truly devastating, I rest in fact that I know Raj was having the time of his life in one of the most beautiful places in the world. It was a true honor and pleasure to have Raj as a friend. He had a huge impact on my life working for the bank. "GO BLUE"