By: Ryan OverhiserRoss Business School
Dear Dr. and Mrs. Reddy,
My name is Ryan Overhiser. I recently graduated from University of Michigan and had the privilege of being friends with Raj during my time in Ann Arbor. Raj was a year older than I, but we had met through Grant, who was Raj's roommate his senior year (Grant was my roommate sophomore and senior year). words cannot express the sadness that "the crew" and I have felt upon hearing the news. I'm truly a better person because of Raj. The one thing that I will always remember about him, and try to instill as much as possible in my own life, was his kind heart. I wanted to share some stories that I think of Raj and the many fun times we had back in Ann Arbor.
I was going into my junior year college and Raj was at that point a senior. He and Tim had always joked about the stereotypical, "Senior Year!" where one does nothing but try to have as good of a time as possible before leaving school. Classes are easy, credits are light, and with a job already secured, Raj could have slacked off and would have been just fine. But being a junior meant that I would be spending an extraordinary amount of time in the library because that is the heart of the BBA program. Many of the nights that Grant and I would be in the library, we would see Raj working on something. We finally figured out that it was for the GMAT. Over the course of the second semester we continued to go to the library…and we would continue to see Raj there. I was shocked at how someone who was a senior that had such little left to accomplish at the University could be spending so much time in the library. I truly admire how great of a work ethic Raj had. He was constantly trying to better himself, in any situation. I'll never forget not only how smart Raj was, but also how dedicated he was to his future, making sure that no matter what, he was going to be successful.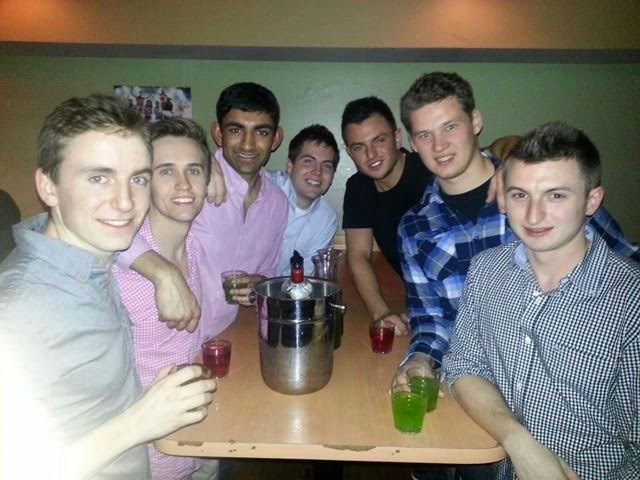 By: Conner OlenechRoss Business School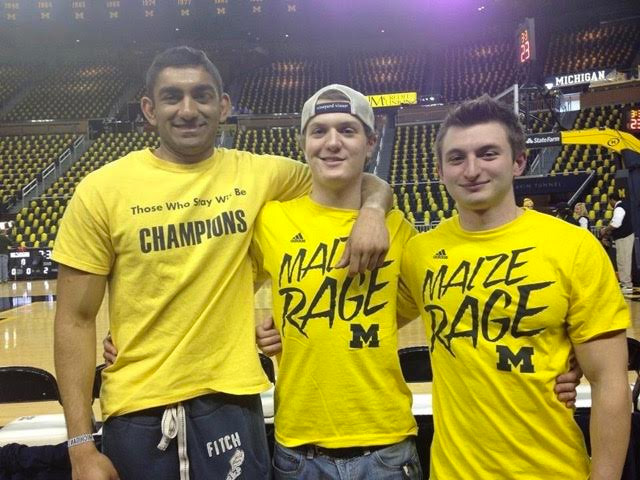 Raj and I were some of the biggest Michigan fans out of our friend group, so we always made a point of getting good seats at the basketball games. Since the seats were general admission, you had to get there earlier to get closer seats. During finals week, we decided to wake up at 6AM and camp out for the Arizona game (who was currently ranked #1 in the country). Since it was right it the middle of finals, we decided to bring our books to get some studying done while we waited outside in the cold. Instead, we got a huge blizzard and temperatures were in the single digits, and no studying was done. We ended up getting seats right behind Arizona's bench, which it was a prime location to yell "obscenities" at the coaches and the players. Even though we lost, it was a day that I will never forget.
Since we had so much fun the first time, we decided to do it again for the Michigan State Game. Thankfully the weather was better for this game. We ended up sitting right behind the Michigan bench, where we were given "Fatheads" of Michigan players and were on national TV countless times. We somehow managed to get phone number of one of the Michigan State players, memorized it, and started cheering it when he was shooting free throws. To this day, we all still take credit for that victory.